The children of Hempsted C of E Primary School were asked by the team at Naylor Powell to design their dream home.
The children aged between 4 and 11 years were asked to be as bold and colourful as they wished. After a very difficult judging process the two winners were decided; 6 year old Tom Mooney and 9 year old Ewan Jeffery.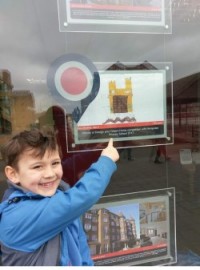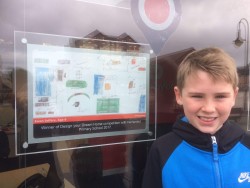 "The standard of designs has been outstanding, we have seen football pitches, garages for racing cars and lots of swimming pools. The two winners were selected as they were beautifully drawn and very imaginative. There are lots of budding architects in the school!" says James Birt, Director at Naylor Powell.
As well as Toys R Us gift vouchers the children got to see their homes in the window of Naylor Powell's Gloucester Docks branch.
As a thank you to Hempsted Primary School for their hard work, Naylor Powell have donated £250, which we are told will greatly help in fundraising towards improving their outside adventure area for the children. Mr Waller, Head Teacher comments "My thanks go to Naylor Powell Estate Agents, who recently gave the children a chance to show off their architectural design skills. The children were asked to design their dream home and they were certainly full of great ideas, including walls made from sweets and a parking space inside the house for their Lamborghini. The winning pupils from the infants and juniors received gift vouchers and the school received a fantastic £250 towards improving outdoor play opportunities for everyone!"
Naylor Powell
Estate Agents l Letting Agents l Property Managers
Cheltenham | Gloucester l Newent l Stonehouse