An article following the success of Naylor Powell's Scrumpty, 'The Tailor'...
The Scrumpty Trail has already proved to be a great success on the streets of Gloucester, but for one sponsor in particular, it would seem greatly successful.
Naylor Powell, the local Gloucester estate agents, embarked on sponsoring 'The Tailor' Scrumpty sculpture located outside the Cathedral entrance. James Birt, director of Naylor Powell, said "Naylor Powell have thoroughly enjoyed being part of the Scrumpty Trail. Not only have we enjoyed seeing our Scrumpty in front of the Cathedral but we also could see thousands of adults and children appreciating, Steampunkty, outside our office in the Docks".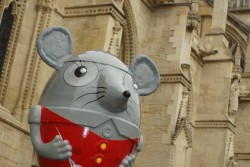 'The Tailor' Scrumpty sculpture that Naylor Powell sponsor is one of twenty sculptures located throughout the city for The Scrumpty Sculpture Trail and was painted by artist Deven Bhurke who has been involved with other sculpture trails in the past such as the GoGo Dragons in Norwich. Deven told us that "The Tailor is inspired by Beatrix Potter's children's book 'The Tailor of Gloucester'. The Design represents the mouse who was saved by the tailor."
Mr Birt went on to say "As a long established business in the county we were delighted to be involved in this event. The trail has worked tremendously alongside the World Cup and promoted the city at its very best. We will be Sad to see the trail come to an end however the team at Naylor Powell are working hard to find The Tailor his dream home!", referring to once the Scrumpty Sculpture trail concludes, some of the sculptures will then be auctioned off for and all proceeds donated charity.
Jason Smith of Marketing Gloucester, the organisers of the Scrumpty Sculpture Trail said "We are very proud of how well The Scrumpty Trail has done and are happy that the sculpture sponsors are being rewarded so well for getting involved with this project". "The feedback from the citizens of Gloucester showing has also showed immense civic pride". The Scrumpty Sculpture Trail has been given a one week extension until the 8th of November to allow anyone who still wishes to see the trail and those wishing to see it again, a slightly longer opportunity. Be sure not to miss out!