Naylor Powell Director, Richard Powell, took part in a very special bike ride today. The charity event titled 'The Mag 7 Ride Again' will see 7 cyclists ride from Gloucester to Truro whilst transporting a rugby ball. This is not a run-of-the-mill bike ride however, as all 7 cyclists are on 1 bike!
The event is raising money for Children's Hospice South West who provide hospice care for children with life-limiting conditions. The event has been supported by local charity, The Wooden Spoon a children's charity of rugby, where Richard Powell is a member of the committee.
The bike which is called a Cobi (short for 'conference bike') is a unique design in which 7 people sit in a circle, facing each other, whilst pedalling the cycle forwards. This amazing bike is the size of a Micra, unmanned weighs 3/4 tonne and has just one gear.
The Mag Seven left Gloucester Docks at 1pm with Richard Powell and Gloucestershire Wooden Spoon Chairman, Tim Heal, on board.
Richard comments "The bike wasn't as I had anticipated and it is quite odd, as the 7 seats are formed in a circle, pedalling forwards but the bike travels sideways! I think they must have moved Milestones School because by car it is only just up the road but by bike it seemed quite a long way and where did all those hills come from? It was great fun and I was asked if I would like to do the next leg but it seemed only fair to give someone else a chance!!"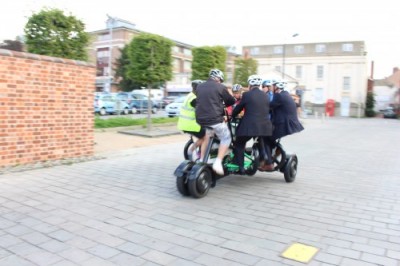 The team raised a lot of money along their journey where they stopped at Milestones School and Kings School.
To follow the journey visit ww.facebook.com/mag7rideagain. To donate text 'MMAG77' followed by £3 or £5 to 70070 or visit their JustGiving page www.justgiving.com/mag7rideagain.
We wish the Mag 7 all the best on their epic journey!
Naylor Powell
Estate Agents l Letting Agents l Property Managers
Gloucester l Newent l Stonehouse