You may have heard that our poor Scrumpty 'The Tailor' lost an ear during the first weekend of the Scrumpty Trail.
Fortunately, it didn't take all the kings horses and all the kings men to put scrumpty back together again just a very good artist! Thanks to the talented team at Scrumpty HQ, The Tailor now looks as good as new.
People who are interested can now go and get a photograph of the complete Scrumpty or if it's easier they can use this one ear! (Sorry we couldn't resist!)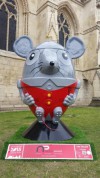 Don't forget to call into your local Naylor Powell branch to pick up a free Scumpty Trail map.
Naylor Powell
Estate Agents l Letting Agents l Property Managers
Gloucester l Newent l Stonehouse