Following on from the popular 'Celebration Day' in Stonehouse, the winner of the balloon race has been announced.
Excitement was building in the office as the returned slips came pouring in. Balloons landed in many local villages including the winning destination from 2014, Malmesbury.
With the closing date drawing in, staff in the Stonehouse branch thought the winner was decided, however, at the last minute they received a phone call from a lady in Dorset who had found the balloon in her garden.
September 5th must have been perfect flying conditions as the balloon travelled a mammoth 71.3 miles! 54 miles further than the winner in 2014!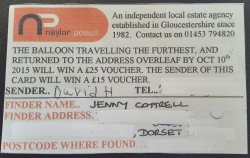 David, who entered the competition and Jenny who returned the balloon slip were both delighted with their prize winning vouchers.
Naylor Powell
Estate Agents l Letting Agents l Property Managers
Gloucester l Newent l Stonehouse